An interview with Assistant de langues in France
Quick Snapshot : Simran worked as English language assistant as a part of assistant de langues program in various schools over a period of three years in France. At the moment she's back in India and working with Sopra Steria, Delhi.
Ex-assistant de langues: Simran Saini
City: Rouen
School Type: Lycée without accommodation
Tutoring job along with the assistant de langues contract: Yes
Useful links: www.annachi.fr (for Indian food) or getgrocery.com
Can future assistants contact you? Yes, if they have more questions.
I'd be happy to help. They can follow me on instagram @ simran0907 :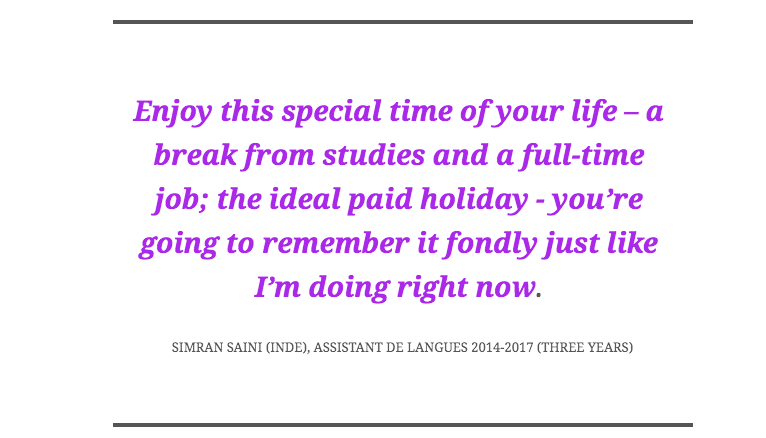 How did you get to know about TAPIF or Assistant d'anglais?
The very first time I applied for assistant de langues program was through the Embassy of France in India, which selects around 40 people from India every year for this program. The other two years was a local recruitment through the Academy of Paris, where I was pursuing my master's degree at Sorbonne IV.
I had heard a lot about it during my years at university and couldn't wait to apply for it as soon as I finished my last year. And so I did! I can never forget the day I saw my name on the list of selected candidates!
It was going to be my first ever trip outside India and as so many previous assistants had told me, it was going to be a 'paid holiday'. Now who wouldn't want that?
Would you like to share your experience in detail?
In one word my experience of working as assistant de langues in France was WONDERFUL! And I'm not exaggerating. I believe this program to be a short cut to the French life and if you wish to improve your French speaking skills, this is your golden chance and you must make the most of it!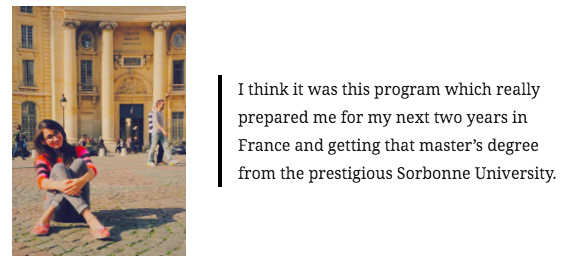 Of course the first time I was there, I was a bit nervous – after all we've all heard that the French are 'rude'. So I had a lot going on in my head and I was quite nervous to meet my contact teacher too. Although she had been really nice to me over the mails we exchanged and had arranged everything for me – I was going to stay at the school accommodation and the very first night in the city she was going to host me at her place. I was soon going to find out that the French were not rude after all!
I met some of the kindest, sweetest, and most adorable people during my first year in France – the English teachers at my schools. They helped me with each and every thing and were kind enough to push me to speak in French with them, because they knew how badly I wanted to improve my speaking skills and be fluent like them. As soon as I told them about this, they started pushing me to speak in French.
How was your school? Was it easy to find a budget accommodation?
My school, where I was living was in a very small town in the suburbs of Rouen, and I soon realized that I need to be in the city to get the most out of this experience. It was then that I started looking for houses in the city. There are plenty of websites for house-hunting – my favorite one was leboncoin.fr where you can look for both 'location' and 'colocation'.
I saw a few places through that website, but I finally moved in with a fellow assistant who had a spare room in the house she was living in with a French lady, right in the center of the city. Your fellow assistants de langues can be of great help and also friends that you can make easily in the city you're totally new to. Usually they make a Facebook group every year – all the language assistants from all over the world. You can find them online or you'll definitely be meeting them at the assistant's orientation sessions that the academy will be organizing. Those are great occasions to meet and hangout with other assistants.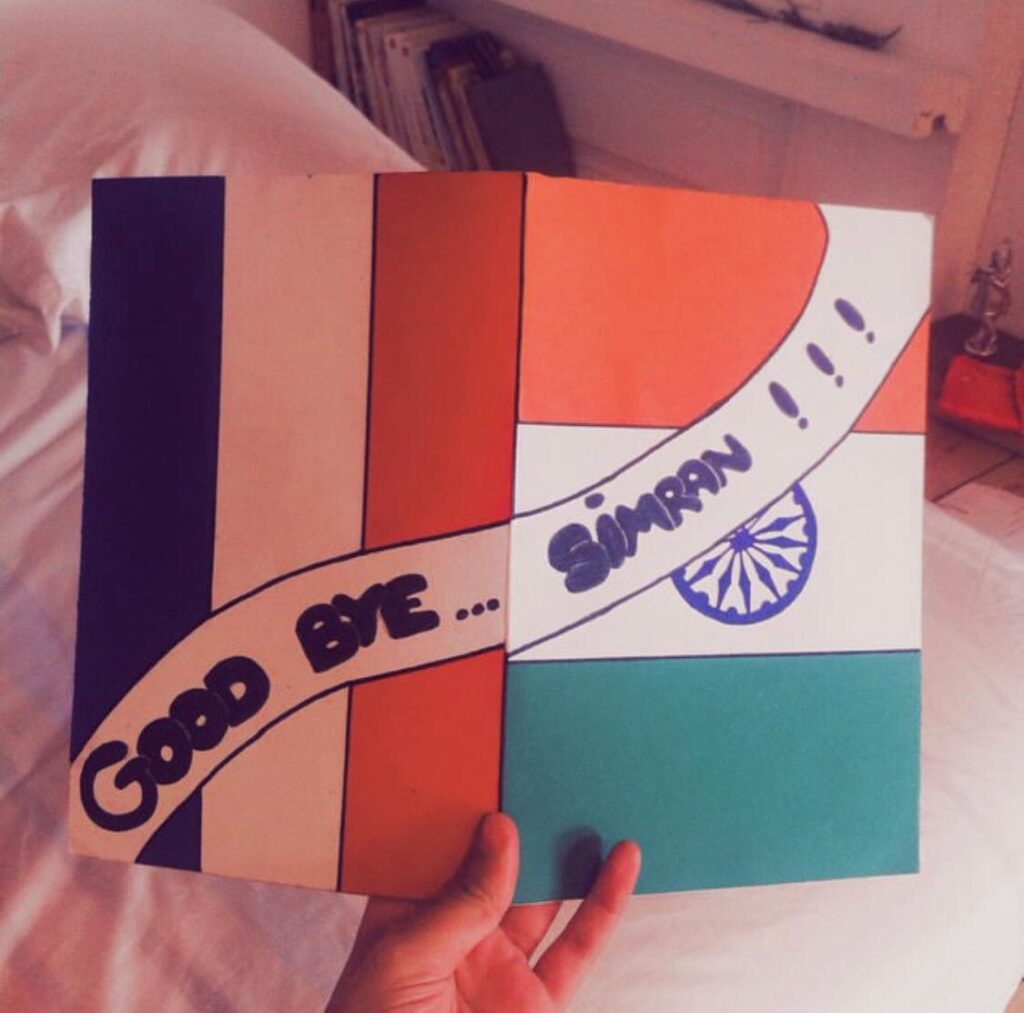 As far as the lessons are concerned, you'll be getting a lot of ideas from the workshops organized by the academy. You can also take help from fellow assistants and ask what they're doing in their classes. You can also share about your local culture and your life in your native country – lessons about your life and country are always a hit with the students because they're quite curious about this foreigner in their school. So, make the most of that curiosity and get them talking!
How about travelling? Were you able to travel considering the fact that assistants de langues don't really earn a lot!
I think one great thing about working as a language assistant is that you'll get a lot of school holidays. It's usually up to two weeks long, after every 6-8 weeks of school.
As soon as you have your schedule for the year, make sure you start planning where you want to go. You must book your tickets well in advance if you want a cheaper price and the cheap good hostels. They're all fully booked around school holidays so you have to be quick.
To save money, you can also try to cut down on going to fancy restaurants too often and splurge when you're on holidays. You can also take up extra jobs around the city – you can post about your qualifications online. I got an amazing work opportunity with a language institute in the city, so my monthly salary was soon around 1100 euros!!! It was also a wonderful new experience – I got to teach English at an elementary school, run a conversation class for adults, and a few students from the university. There are quite a lot of French people who want to improve their English language skills, so you can post about being a 'native' and give private classes. I got quite a few of them even in Paris the next two years!!
How did you become Language assistant three times?
This was while studying at the Sorbonne. The academy appoints locally when there is a 'demission', which means when an assistant resigns from the post. So, you wouldn't get this position immediately (which is at the beginning of the school year in September), but surely by October/November or even January.
There are quite a lot of assistants who resign from their posts in Paris or outskirts for various reasons. Here's another piece of advice – don't choose Paris in your top three. Rather, choose something closer to Paris where living costs are comparatively cheaper. And Paris would be just an hour by train, so you can visit every other weekend if you'd like!
Any special tips, tricks or advice you would like to share?
If you're below 26, you don't have to pay for a lot of things like museums and cultural events, and discount of many, many things. Make sure you ask if there's a student/below 26 discount available and you'll be saving a few euros there.
Assistants de langues programme is a great opportunity to improve your French speaking skills, but remember, you have to push yourself. Make the most of your time there.
Travel as much as you can. Meet new people. Hangout with fellow assistants. Get local jobs to meet the locals and push yourself to speak in French. Talk to other subject teachers in the staffroom at school. There are innumerable opportunities for you practice and improve your French. So go grab it!